How to approach a community in the least intrusive way?  Co-design is based on listening and asking questions throughout the whole process.
Founded in the late nineties, Smart is a large cooperative with presence in nine European countries which focuses on boosting creative workers and artists by giving them a platform for invoicing and making connections. The Spanish Smart node has now been operating for more than ten years, supporting thousands of members, offering mentoring to associates and independent professionals, promoting the development of professional initiatives through mutualized  services.
Smart IB is a non profit company and probably what makes Smart special are some of its services, such as non-payment insurance or collaborative spaces, which demonstrate its interest in  the common good and protecting social interest. These kinds of features are what the P2P Models project considers important when choosing a case study. In addition to this, Smart IB is a complex organization – a community expanded across different countries having grown  rapidly in only a few years- and, with increasing growth, has the potential to have a real impact on dealing with an issue as crucial and current as the future of work. Interested in the topic of the future of work, we approached Smart IB at the end of 2018 to offer them the opportunity of becoming a case study for our research. Our research is ongoing and involves people from Madrid and other nodes in Spain including workers from the organisation, for example employees of the cooperative, the so called  core members, other members and people who left the cooperative long ago. 
In this text we explain how we approach the research with our case study, Smart IB.
Co-design or participatory design, and originally co-operative design, has its roots in techniques developed in Scandinavia in the 1970s. It is an approach to design, with the intention of  actively involving all stakeholders (e.g. employees, partners, customers, citizens, end users) in the design process to help the result meet their needs and ensure it is usable.
The greatest innovation is the way in which the community is involved in all phases of the design process. P2P Models is a flat organisation and we try to reproduce our organizational principles in our  relationships with project partners, pursuing what we consider "a real participatory process". 
How to approach a community in the least intrusive way? The P2P Models project seeks to introduce blockchain based tools into communities for commons governance, but why develop something for Smart IB if they may do not need it? Co-design is based on listening and asking questions throughout the whole process.
First contact: we decided to approach the Madrid node first, for  proximity reasons. We were invited to visit the co-working space where Smart IB is located and became acquainted with  each other, building a working relationship. The core team gladly accepted our collaboration but our need was to talk with the whole community, we needed to involve  all members, so we decided to start the participant observation, trying to connect in the most careful way with other Smart members.
Participant observation: our social research began by attending the cooperative's meetings that were held in the co-working space. We also started observing the work of the consultants, mostly women, who do client-facing work and the cooperative's management. Our aim was to understand what it means to be a Smart member, so we focused on understanding and experiencing the daily life of these artists and cultural workers. Participant observation gave us an idea of the daily dynamics, relationships and a general understanding of what being a Smart IB member means.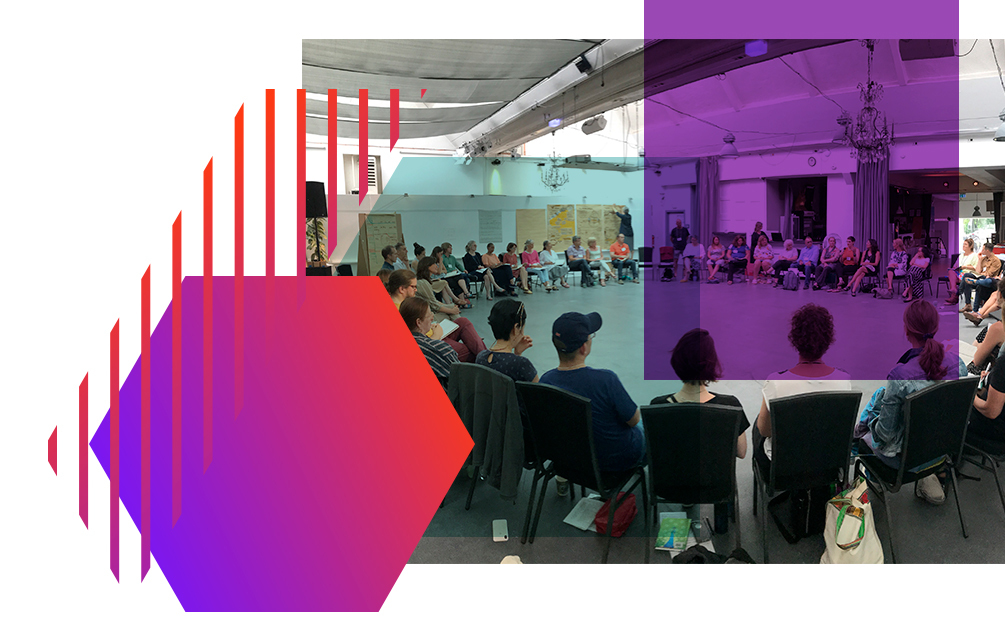 As a research project, much of our work is the construction of scientific knowledge. In relation to this, we consider that reflecting on  how we want to do this, is necessary. In our case, we take the starting point as the epistemological positioning of Donna Haraway in Simians, Cyborgs and Women: The Reinvention of Nature. 
It is clear to us that the classic aspiration of western-heterodox science is so-called "objectivity", but this is nothing but a mask to hide the mechanisms of power that are self-perpetuating, based on the domination of certain perspectives and critical subjects.
In the words of the author: "We unmasked the doctrines of objectivity because they threatened our budding sense of collective historical subjectivity and agency and our 'embodied' accounts of the truth". With this we want "to foreground specific positioning, multiple mediation, partial perspective, and therefore a possible allegory for feminist scientific and political knowledge".Thus, it is precisely the embodiment of this knowledge, and the embracing and acceptance of our partial perspective, that we believe can make our science more critical. 
We want to be aware of our own position of power, the one we have, for example, over our objects of study. By recognizing this, we do not  consider them as "a passive and inert thing", because, as the author says, "accounts of such objects can seem to be either appropriations of a fixed and determined world reduced to resource for the instrumentalist projects of destructive Western societies, or they can be seen as masks for interests, usually dominating interests". We feel more comfortable practicing a situated knowledge, that "requires that the object of knowledge be pictured as an actor and agent, not a screen or a ground or a resource, never finally as slave to the master that closes off the dialectic in his unique agency and authorship of 'objective' knowledge". 
Interviews: choosing an anthropological perspective, we decided to undertake some unstructured and undirected interviews which means active listening with no specific  focus, simply listening. I, the researcher, met professionals from different fields and profiles (different ages, gender, race, socio-economic status, nationality, and functional diversity) who had different relationships with the cooperative, some no longer involved with it. The main goal was to get the widest range of  perspectives possible to have a complex image of the cooperative's reality. With the corresponding confidentiality forms signed, it was time to collect the data and work on this with the rest of the team.
Interdisciplinary meetings: from the very beginning we decided to create our own methodology, based on our interdisciplinarity as a team. Dipping into Ash Maurya's book about Running Lean: Iterate from Plan A to a Plan That Works, and with our different backgrounds and experiences, we started to build on the work. Our computer scientists, designer, communication and social researchers… everyone worked with the data, always trying to empathize with the people interviewed, with respect and care. We dedicated several meetings to discussing the wishes and needs of the community, and proposing ways to meet them. But of course, we needed to get back to the members, to get their feedback about all of this. This is  what we consider a "design thinking" process.
The needs located in SmartIB are greater cohesion in the community, creation of a stronger professional network, generation of a more quality employment and above all,  giving a greater visibility to the artistic and cultural sector.
Workshops: workshops were the meetings we held to design the tools with the community. We like this concept because of its relation to "craftwork". We tried to tailor the co-design workshops, to create something in a very artisan way, completely specific and customized for the public we were dealing with. We held a couple of these workshops with the Smart IB community which were mainly focused on validating the needs and desires found in the research and on getting feedback about the ideas for the tools for the community, making clear, of course, the possibility of new ideas  emerging. For that, we used some UX methodology dynamics, like card sorting or shadowing. 
By investigating Smart we have learnt a lot about the current situation of artists and cultural workers in Madrid. The issue of job precariousness was maybe the most prominent in conversations. It was really difficult finding an idea that satisfactorily answered the problems found in the social research, and which  could be feasible for our team with blockchain. We realize that these challenges are typical of projects such as ours, working with a yet unexplored technology such as blockchain, which is difficult to make usable and to apply to solving problems of communities that need solutions quickly.