Decentralized Science. Bringing transparency to academic peer reviewing
P2P Models explores a new way of building collaborative platforms harnessing the blockchain. We are building a software framework to build decentralized infrastructure for collaborative economy organizations that do not depend on central authorities.
We  enable democratic-by-design models of governance for communities, and fairer value distribution models. Our aim is to improve the economic sustainability of both collaborative economy contributors and organizations.
Open Access and Open Science movements.
We are a team based at the Universidad Complutense de Madrid (UCM), developing an ERC Granted research project led by Samer Hassan, Faculty Associate at the Berkman Klein Center for Internet and Society at Harvard University and Associate Professor at UCM. Thus, we combine research and software development efforts, and we have to navigate the jungle of academic papers and publications and survive the academic's "publish or perish" curse.  As do many others, we think academic publication and peer reviewing can be improved in many ways, such as its fairness, quality, performance, cost, etc. Moreover, an oligopoly of publishers owns more than half of the market, making a large profit from the free work of editors, reviewers and authors. Fortunately, in P2P Models we are studying how blockchain based solutions can help us improve the governance and value distribution in online communities, and we decided to apply our own proposals to improve science publication and peer reviewing. This is how the Decentralized Science project was born, as an effort to solve the problems we were facing in academia and promote the values of Open Access and Open Science movements with the tools we were designing and researching in the P2P Models project.
It all began with our participation in an online "Blockchain for Social Impact" hackathon where a team of five people including  P2P Models collaborators designed and developed a Blockchain prototype from scratch.
Later, Viktor Jacynycz-García developed the project further in his Master's research thesis, and the results were presented at the 52nd Hawaii International Conference on System Sciences (HICSS) and Peere, where we had fruitful discussions with the community of researchers studying peer reviewing and those proposing new blockchain systems. But the biggest news for the project arrived when we were selected as finalists of the Ledger Project in March 2019. LEDGER, is a European Commission funded project that promotes alternative models where data is a common good owned by citizens and wealth created by data-driven platforms is equally distributed. The Project supports Research and Innovation projects addressing decentralised technologies such as blockchain as well as privacy-by-design, reliability, trustworthiness and openness as core values.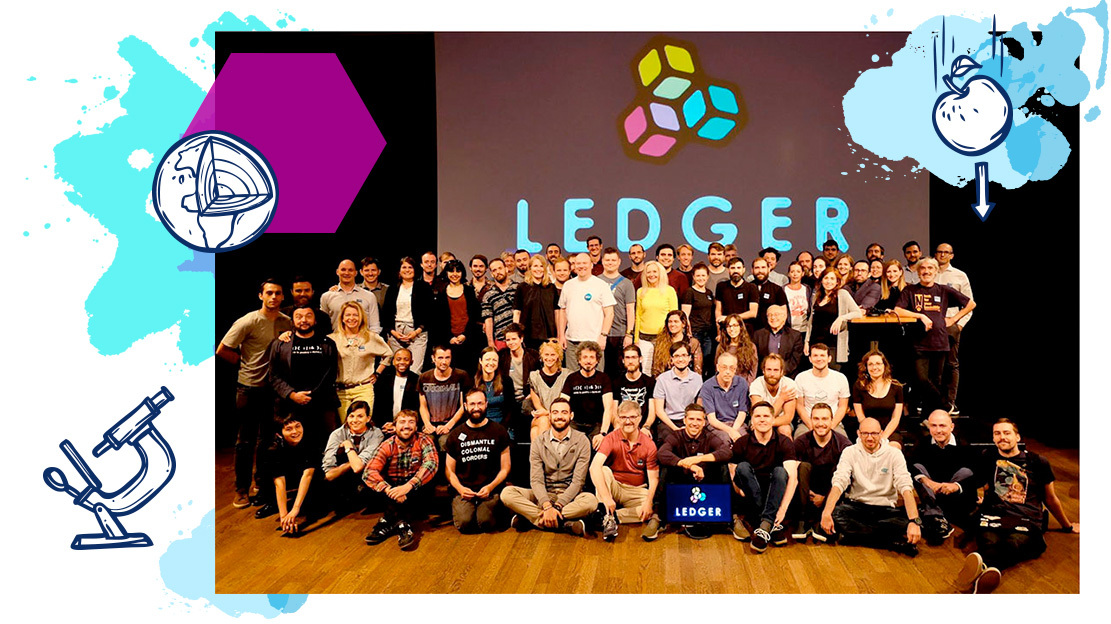 Here, 300 projects were presented, 33 were invited to the final in Amsterdam, and finally 16 selected to receive 150.000 € in funding and to participate in the acceleration program with business and technology mentors, bootcamps and an amazing community. Among them, Decentralized Science. 
Decentralized Science uses decentralized technologies such as blockchain and IPFS to promote Open Access and transparency in peer reviewing. Our solution provides a decentralized Open Peer Review infrastructure with a reviewers' reputation network. It helps journal editors find the best peer reviewers, improves the quality and fairness of review reports and increases the recognition of reviewers. Furthermore, using these technologies we challenge the centralized technical infrastructure that supports the middleman role of the oligopoly of traditional publishers, bringing back the control of academic publishing and reviewing to the academic community.
Our solution provides a decentralized Open Peer Review infrastructure with a reviewers' reputation network.
Our proposal is simple: to bring transparency to academic peer reviewing. And we do this by publishing the peer review reports openly using decentralized technologies. This practice of revealing the reviewers' reports (with or without their identities) is not new, and has been promoted for many years because it can improve the quality and fairness of peer reviewing. Using technologies such as Blockchain and IPFS, we can create an open and public network built around these review reports. Here we can offer services such as a tool to search for the most reliable and best reviewers for a specific paper, or a reputation network of reviewers to increase the recognition for their invisible work, while increasing the fairness, quality and timelines of review reports.
The development of Decentralized Science within the LEDGER program began in July 2019 and in  January 2020 we have already developed our first minimum viable product that supports the search of peer reviewers for two pilots. Our software is offered as a Free Software extension of the existing editorial management software OJS. Thus, we can help journals and conferences to find the best peer reviewers while keeping their favorite tools. But we still have many interesting things to design and implement, such as finding the best way to recognize and reward peer reviewing work in our reviewers' reputation network, or promote the open publication of review reports in the blockchain.
Decentralized Science plans to release its solution in the second semester of 2020. Until then, we have an exciting path full of things to learn, experiment and develop. To keep informed of our adventures and be the first to know when our product is ready, please subscribe to our newsletter. And let us know if you want to help us design and test our solution, and become one of our pilots or early adopters.