Last February, in a pre-pandemic world, we were excited about organizing a workshop hand-in-hand with Amara on Demand, one of P2P Models' case studies. We were ready to launch the first prototype, and our plan was to gather 6-8 linguists in one place to show it to them. In addition, we were planning to discuss some tips about the future of the allocation of value in Amara in several sessions, including a focus group and 2 or 3 Design Thinking Workshops. We were rigorously following our plan to advance the research with communities using tools based on blockchain to foment more participatory governance.
The chosen location was Sao Paulo, and we were looking for flights and having conversations with some researchers in the area. But in one week the world changed, the virus and the confinements arrived in our lives and everything related to the design of the research had to be changed.
The confinement means we cannot travel and meet linguists face to face, so we had to redefine our strategy from scratch. But, how could we manage this situation? Normally, in Design Thinking workshops, the magic happens when you put different people together in a room. You can then create an intimate atmosphere to make the participants feel comfortable and let their imaginations run wild. By letting go of ideas, you can spin them together and build a consistent narrative and thus, take the next steps in your research about a product, tool or service from a shared methodology.  We have been reading a lot about it. Examples of the materials you might also find useful are a list of resources created collaboratively by researchers worldwide and this webinar on how to do virtual field work in COVID-19 times. Within the context of our research, we have arrived at the following conclusions that we would like to share. We hope you find them useful.
Tips to run effective remote Design Thinking workshops
The confinement means we cannot travel and meet linguists face to face, so we had to redefine our strategy from scratch.  Within the context of our research, we have arrived at the following conclusions that we would like to share
Preparing carefully
Prep-work is especially important for remote sessions, as these are more complicated. It allows attendees to prioritize their time and take a leap in the lateral thinking process. Building a consistent agenda is the foundation for a successful session where participants and moderators feel comfortable.
Less time, better results
To minimize participant distraction, reduce the time of the online workshop session. Short, time-limited sessions will structure the flow and motivate people to stay on topic. Sending prep-work to attendees will help them prepare mentally and gain confidence in the tasks ahead, as well as allow the facilitator to move through the content more quickly.
Know the people you work with
Getting to know the people you will be working with, allows you to be more confident and to ask direct questions. Connections between individual attendees will prompt the rest of the group to be ready for participation. Having cards on hand with their names, photos and some details of who they are can be a good idea.
Provide previous material
People will feel more secure if they know the contents of the workshop in advance. A few days before, provide them with some materials and explanations about what the workshop will involve.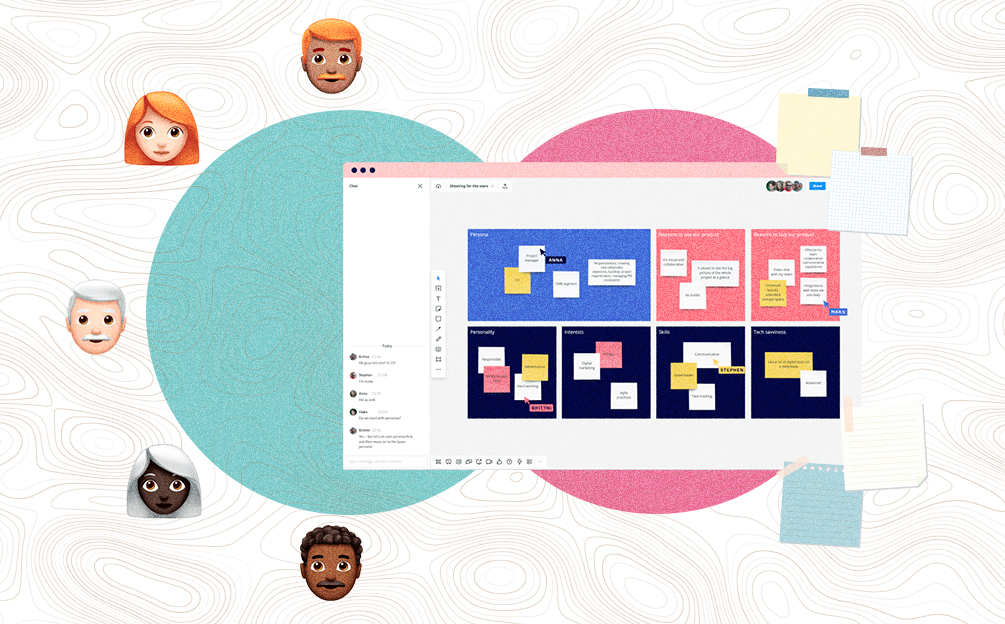 First of all, there is an issue you will have to deal with: doing Design Thinking well with remote teams is not easy
Tech Setup

: ensure that the tool that you choose for the video call works properly. Take a few minutes to check that the camera and microphone of others, as well as the connection, work properly. It is hard to believe, but a lot of people still use Internet Explorer.

Define

which type of Design Thinking dynamic suits you the best. Practise it beforehand. 

Choose the right tool

: there are several tools online for your needs, so take your time to evaluate how each will work with your dynamics, and select the tool that is closest to the type of workshop you want to deliver. In our case, we are experimenting with

Miro

.
Even if you have chosen the most suitable  technology and you  are well-prepared for the sessions, do not  fool yourself: remote dynamics come with limitations. Being aware of them will help adjust your goals.
For example, in remote Design Thinking Workshops, it is more difficult to observe the non-verbal communication of participants. On the one hand, you only see one part of the body and people's behaviour is different when talking via video call or in person. On the other hand, you have to dedicate more time to make the participants feel comfortable. Besides, it is not recommended that you  organize large focus or discussion groups, since larger groups are more difficult to handle. Instead, you can reduce the number of participants in several sessions, or perhaps carry out individual interviews instead.
Even if we still do not know how the new normal will affect our lives and research, we must be adaptable and be aware of how the change in mode will affect the data we collect and generate. Maybe we will encounter different scenarios, with different results, or maybe people will find a way to continue being human after all.